Around 97.1% of TBC Bank's operations take place in Georgia, a growing economy with dynamic transport, service and tourism industries that takes advantage of the country's central geographic location, educated population, natural beauty and renowned hospitality.
Economic growth
Even though Georgia's economic expansion moderated somewhat after reaching 10.1% in 2022, the growth in the first half of 2023 was still very strong, with real GDP increasing by 7.7% in 1Q YoY and by 7.4% in 2Q, with an average of 7.6% in the first two quarters, according to Geostat's estimates.
External sectors
The sustained negative impact of lower international commodity prices on both exports and imports noticeably affected external sector activity in 2Q 2023. Specifically, exports and imports growth moderated to 14.8% and 11.8% YoY, respectively. However, when assessing the half year dynamics, external trade remained elevated with a 19.3% YoY increase in exports and a 20.4% increase in imports in the first six months. Importantly, these commodity price dynamics particularly affected domestic commodity exports, while re-exports continued to perform strongly. At the same time, the share of IT services in Georgian exports increased notably, with migrants arriving over the past year beeing a major driver. On the imports side, investment goods constituted a considerable share of imports, indicating positive investment sentiment. The terms of trade remained broadly stable, supporting economic growth and the GEL.
Given last year's high base effect, which was caused by the high level of immigration in 2022, the annual growth of tourism inflows adjusted for the migration impact by the NBG normalized to 34.8% in 2Q 2023, while the figure for the half year was 57.9%. At the same time, while the share of conventional tourism in total inflows has increased lately, TBC Capital estimates that the YoY growth of tourism inflows in January-June 2023, including the expenses of migrants counted as residents by the NBG, was 81.8%. Remittances also maintained a positive momentum after adjustment for Russia, expanding by 42.7%1 YoY in 2Q and by 22.0% in the first six months of 2023. FDIs slowed down in 1Q 2023 and decreased by 13.7% YoY, although the inflow remains strong considering the record-high level of investments last year.
Fiscal stimulus
The fiscal stimulus, although still sizable, negatively affected growth in 2021 as the deficit amounted to around 6.3% of GDP, after an expansionary 9.3% of GDP in 2020. In 2022, the deficit was even lower, at 2.5%. According to the Ministry of Finance, fiscal consolidation is expected to take place in the coming years with deficit-to-GDP ratios of 2.8% and 2.3% in 2023 and 2024, respectively.
Credit growth
As of June 2023, bank credit increased by 13.5% YoY, against 13.8% growth at the end of 1Q 2023, at constant exchange rates2. Amid further moderation in inflation, real credit growth strengthened from 8.3% YoY in March 2023 to 12.9% at the end of June 2023.
Inflation, monetary policy and the exchange rate
Due to continued robust inflows, the US$/GEL exchange rate continued to perform strongly in 2Q 2023, although this trend was affected by shifts in the US$/GEL exchange rate expectations, likely driven by low inflation and the possibility of rate cuts, triggering deposit conversions from GEL to other currencies and a minor depreciation from 2.56 in March to 2.64 at the end of July.
As a result of a stronger GEL and disinflationary pass-through from international markets, CPI inflation continued to decline from 5.3% in March to 0.3% in July 2023. While the import component caused headline inflation to cool down significantly, service inflation remained relatively rigid. The NBG remained hawkish throughout 2023 and delivered only a 0.5 pp cut from 11% in May and 0.25 pp in August. The NBG also accumulated a substantial amount of reserves with a net purchase of US$ 1,058 million on the FX market in January-June 2023, taking total gross international reserves to US$ 5.1 billion.
Uzbekistan
Uzbekistan also demonstrated solid economic activity with 5.7%3 growth in the second quarter and 5.6% in the first half of 2023. External trade was strong as exports of goods increased by 18.6% and imports by 18.9% YoY in the same period3. Retail loan portfolio grew by 54.7% YoY at the end of May, with mortgage loans expanding by 26.7% and non-mortgage loans by 83.9%4. As in Georgia, inflation and the central bank policy rate also declined in Uzbekistan, from 12.3% and 15.0% in December 2022 to 9.0% and 14.0% in June 2023, respectively4. The US$/UZS continued its slight depreciation trend, standing at 11600.2 at the end of July 20234. While depreciating against the US$, in terms of REER the UZS gained value against Uzbekistan's main trade partners' currencies.​
Going Forward
After two, successive years of double-digit growth in Georgia, recent trends indicate that economic activity should moderate somewhat but remain strong in 2023, with the IMF and the NBG projecting growth of 6% and 5%, respectively, while TBC Capital's baseline stands at 7.2%. As for Uzbekistan, the consensus projection appears to be around 5.1%.
More information on the Georgian economy and financial sector can be found at www.tbccapital.ge
 1 Remittances from Russia are adjusted for double counting with tourism inflows and other similar effects, based on TBC Capital estimates.
 2 Based on data published by NBG and FX-adjusted by TBC, based on Dec-2022 end of period exchange rate.
 3 Based on data published by Uzstat.
 4 Based on data published by Central Bank of Uzbekistan.
Economy

Population : 3.7 million

GDP (2022) : US$24.6 billion

GDP per capita1 (2022): US$20.2k

Average real GDP growth (2012–2022) : 4.4%

Currency                                       

Currency: Lari (GEL)

Exchange rates (31 March, 2022): USD/GEL2.62; EUR/GEL: 2.86

Recent achievements

#1 globally in Open Budget Index2

#1 in the Rule of Law Index among Eastern Europe and Central Asia3

#7 globally on Ease of Doing Business4

#2 on Starting a Business4

#7 in Protecting Minority Investors4

#12 in Enforcing Contracts4

#15 in Economic Freedom Index5

#1 in Corruption Perception Index in Eastern Europe and Central Asia6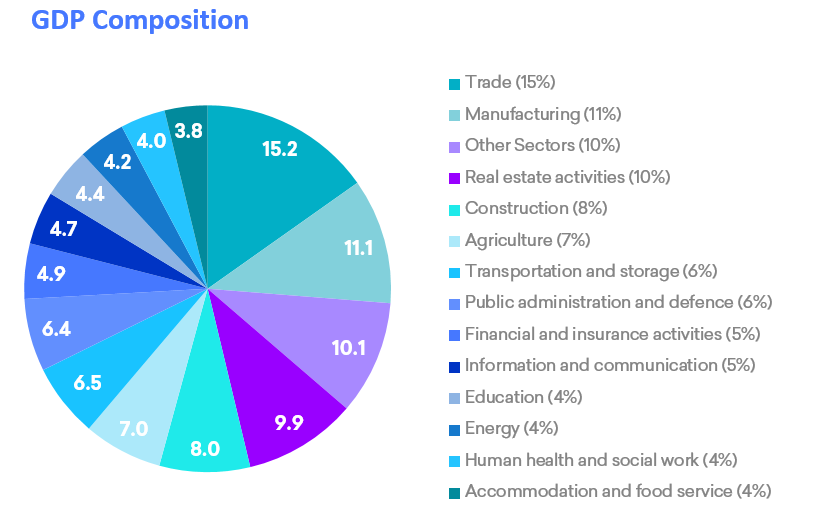 Source: Geostat
Sources: GeoStat; NBG; IMF,  Rating Agencies
1 at PPP, current prices IMF, WEO, April 2023 update, estimates
2 IBP, Open Budget Survey 2021
3 #49 globally; World Judiciary Project, Rule of Law Index 2022
4 World Bank, Doing Business Report 2020
5 Fraser Institute, Economic Freedom of the World 2022 Annual Report
6 #41 in the world; Transparency International, Corruption Perception Index 2022